According to the Institute of Inspection Cleaning and Restoration Certification(IICRC), which sets the standards for the cleaning and restoration industry and water damage restoration training, there are four different classes involved in liquid destruction. Class 1. The lowest and easiest to deal with, this has a slow evaporation rate. Only part of a room or area was affected, there is little to no wet carpet, and the moisture has only affected materials with a low absorption rate, such as plywood or concrete. Class 2. With a fast evaporation rate, this level affects an entire room, carpeting, or cushioning, the wetness has wicked up the walls at least 12″, and there is moisture remaining in structural materials. Class 3. This class has the fastest evaporation rate, and ceilings, walls, insulation, carpet and sub-floors are all saturated. The liquid may have come from overhead. Class 4. This class is labeled as specialty drying situations, which means there has been enough liquid and time to saturate materials with very low adsorption, such as hardwood, brink, or stone.
If you are dealing with Water Damage call Goodyear Water Damage Services right away at 623-321-2102!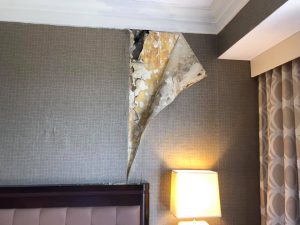 Surprise, AZ is a city located in Maricopa County. The City of Surprise Water Conservation Program is an important part of the management and planning of the City's limited water resources for today and into the future. Looking after it's residents, the city of Surprise, is now offering a new water rebate program for it's water customers. Beginning on July 1, 2019, the City will be accepting applications for three rebate-types: installation of Environmental Protection Agency (EPA) certified WaterSense®-labeled irrigation controllers, new home Xeriscape landscape installation, and HOA turf removal. To apply for these water rebates, click here. The city also offers it's residents free water conservation workshops. Up to 70% of water usage is used outside.  These workshops will help you learn how to create and maintain a beautiful yard while saving time, water, and money. Here are a few tips you can start implementing at your home:
Check your irrigation and pool systems for leaks monthly
Adjust your irrigation controller (timer) as the weather changes
Take free Water-wise Surprise landscape and water efficiency workshops
Check your home for leaks (toilets, faucets, water-using appliances, etc.) monthly
Look for WaterSense products when replacing toilets, showerheads, and irrigation controllers
Prune your landscape only when it needs it.