Setting up a containment wall at your home after you have experienced water damage can significantly reduce your dry out time. After an air conditioner pipe failed at this customer's home it leaked water onto the ceiling which eventually collapsed after a prolonged amount of time causing a minor flood in their hallway leading to the master bedroom. Our goal is to always work smart so that we can get your home dried out as quickly as possible. By setting up a containment wall we can reduce the dry out time by maximizing the drying efficiency and use less equipment which reduces the expense. Containment walls also keep dust, debris and mold from spreading into unaffected areas of your home. This will not only keep your air quality healthy but save you hours of cleaning.
Call our office with any questions about water damage repair at 623-321-2102.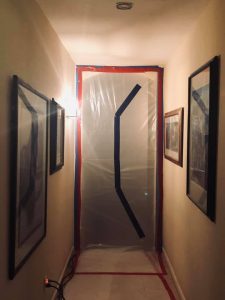 Avondale, AZ is a city in Maricopa County, adjacent to Phoenix. As desert dwellers we know that there is always a chance of drought conditions, with Arizona feeling the effects first. That is why water conservation is so important. Residents can make small lifestyle changes that can have a huge impact on reducing their water use at home as well as their monthly expenses. The following is some information that will help you get started at protecting this precious resource:
Know where your water shut-off valve is at your home. Labeling this valve for easy identification is always a good idea.
Inspect and fix household leaks. These leaks are typically silent so you could be losing a lot of water without even knowing it.
Take showers instead of baths.
Avoid flushing the toilet unnecessarily. Do not flush tissues, insects, and other similar waste.
Only use your dishwasher and washing machines when you have a full load.
Turn off faucets when you are brushing your teeth or shaving. Fill the sink if needed.