If you experience hidden water damage there are some visible signs. You may smell a must odor. Once water is absorbed into drywall or wood there is a large risk for microbial growth. You may see mold growth on walls, ceilings or baseboards. Your paint or wallpaper may begin peeling off. Your walls can actually start to warp. Your ceilings or floor may start to buckle or staining can appear. If you notice any of the mentioned signs you should inspect further or call a trusted water damage restoration company to come and evaluate your home. Waiting can actually cause more damage and larger expenses. For questions about our water damage restoration services please call 623-321-2102 today!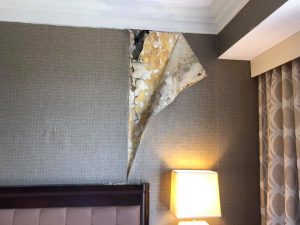 Cachet at the Wigwam is a community located in Litchfield Park, AZ. Living in Arizona we are always looking for ways to promote water conservation. According to Gov. Doug Ducey, securing the state's water future is now Arizona's most pressing issue. He was quoted as saying in his 2019 State of the State address: "Here's the bottom line: We are in a 19 year drought. It's going to get worse before it gets better." Arizona is expected to grow by another 5 million people by 2050 (that is a lot of people!), and as the population grows and drought and climate change reduce water supplies, new approaches must be taken to ensure communities, wildlife, industry, and agriculture can continue to flourish, according to Western Resource Advocates. You can help at home by implementing some of the following ideas:
When running a bath, plug the tub before turning on the water. Adjust the temperature as the tub fills.
Use a pool cover to help keep you pool clean, reduce chemical use and prevent water loss through evaporation.
Don't use running water to thaw food. For water efficiency and food safety, defrost food in the fridge.
Arizona cities are leading the way to a new water conservation culture by educating residents of all ages on the importance of reducing their water use. You can contact your city's water resources department for more information.