Water intrusion, no matter how small, can cause a lot of damage in your home if not properly treated. Drying out the water is imperative to stop further structural damage. Upon arrival, our technician will use a moisture meter to determine where and what the moisture levels are. Once he's determined the best course of action he will immediately begin the dry out process. After extracting all water, he will set up air movers, dehumidifiers and air scrubbers as needed. These devices will run non-stop. Every 24 hours our technician will come back out to your home to monitor the moisture levels. Once the area is completely dried out, he will remove the equipment and the restoration process can begin. If you have any questions about water damage restoration call our office at 623-321-2102.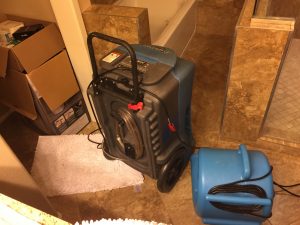 Corte Bella is an age-restricted community in Sun City West, Arizona. Residents living in the desert know how important water is and how the conservation of this resource needs to be protected for future generations. Sun City West offers free classes on water history and conservation. The classes discuss topics like, Arizona water regulation, Groundwater code, Assured Water Supply program, the CAP canal and the recently approved Drought Contingency Plan. They also talk about water conservation tips for homeowners to help find and reduce water usage and waste inside and outside the home. If you're not able to attend your city's free class try implementing the following ideas at your home:
When washing dishes by hand, don't let the water run. Fill one side of your sink with water and the other with rinse water.
Cook food in as little water as possible. This also helps it retain more nutrients.
When doing laundry, match the water level to the size of the load.
Turn off water while washing your hair and save up to 150 gallons a month.
If your toilet flapper doesn't close properly after flushing, replace it.
Take five minute showers instead of baths. A full bathtub requires up to 70 gallons of water.