Having the tools of our trade is a necessity in this industry. We are always looking to provide our water damage repair customers with the best workmanship possible. Carrying high quality machines allows us to do that. We have moisture meters, thermal imaging cameras, air movers, dehumidifiers and air scrubbers. Moisture meters are used to find and control moisture as well as to avoid microbial growth from developing in your walls or floors. Thermal Imaging cameras help our technicians find the source of the water even in hidden areas which can reduce the damage. Air movers are high-velocity fans which lead to faster dry times and are a must at every water damage restoration job. Dehumidifiers efficiently extract water from the air which also creates airflow and speeds up the dry out. Air Scrubbers are a portable filtration device which remove harmful contaminants from the air such as mold, dust and lead. This equipment helps us get your home dried out as quickly as possible and reduce the damage and your out of pocket expenses.
For questions about our water damage restoration services call our office at 623-321-2102.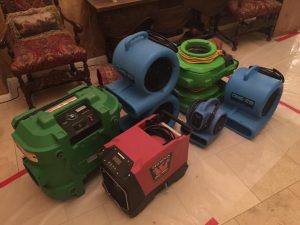 Arizona Traditions is a community in Surprise, AZ. As desert dwellers know water conservation is imperative to protecting this precious resource for future generations.  the City of Surprise offers it's residents Water Rebate Programs and free Water Wise Workshops. You can find out more details by clicking here. Try implementing the following ideas at your home and help reduce your water use and lower your monthly bill:
Check your irrigation and pool systems for leaks monthly.
Adjust your irrigation controller (timer) as the weather changes.
Take free Water-wise Surprise landscape and water efficiency workshops.
Check your home for leaks (toilets, faucets, water-using appliances, etc.) monthly.
Look for Water Sense products when replacing toilets, shower heads, and irrigation controllers.
Prune your landscape only when it needs it.