This office had a second story water leak in their office building. In the upstairs bathroom the toilet handle got stuck and the toilet water overflowed though out the night. It leaked out of the bathroom, into the carpet and then down through the floor and walls into the lower level. Our water damage technician was able to get out to their office first thing Monday morning to take thermal images, moisture readings, extract the water, and set up air movers, dehumidifiers and air scrubbers. As a commercial building we understand that getting your building restored as quickly as possible is imperative to your business. This company only had to close down for one day as our technician was able to spend the whole day getting everything dried out. For questions about our water damage restoration services call our office at 623-321-2102.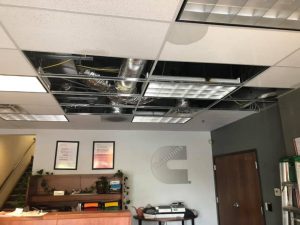 The City of Goodyear offers it's residents, including Pebble Creek residents, free water conservation classes several times throughout the year. These classes are held in the community room within the Goodyear Police Department Admin Building. The address for this building is 11 N. 145th Ave, Goodyear, AZ 85338 and the crossroads are VanBuren and 145th Ave. The following classes are upcoming and you can register for them online by clicking here:
September 10, 2019: Growing Pomegranates and Figs – This fruit is easy to grow in hot climates. Come learn the tricks to success presented by Jonathan Manning, ISA Certified Arborist.
September 24, 2019: Cactus for Everyone – This class will provide instruction on selecting cacti, planting/plotting, water, pruning, fertilizer, and even propagation. Presented by Jonathan Manning, Certified Arborist.
October 8, 2019: Tree and Shrub Care – Learn how to choose, plant, and maintain healthy plants in our desert environment. Taught by Jonathan Manning, Certified Arborist.
October 22, 2019: Growing Fruit in the Desert – Growing fruit can be a challenge, this class will teach you about fruits that can thrive here locally. Jonathan Manning, Certified Arborist, will share his 30 years of experience growing fruit in the Sonoran Desert.
November 5, 2019: Trees for Arid Yards – Knowing how big that baby tree is going to get will help you prevent damage to your foundation, neighbor disputes and eventually the huge cost of removal. Jonathan Manning, Certified Arborist, will share photos and tips on different species of trees.