Carpet Stretching is the process of pulling carpet as tight as possible without damaging it, cutting off the excess carpet and re-securing it to the tack strips located along the perimeter of the room in the sub-flooring. Most restoration companies do not offer this service. Once they pull up your carpet to dry it and the sub-floor out, they will leave you having to find another company who offers carpet stretching. Thankfully, Goodyear Water Damage Services has technicians that know how to stretch carpet back into place and we offer a two year warranty on the carpet stretching labor. Call us for questions about our services at 623-321-2102.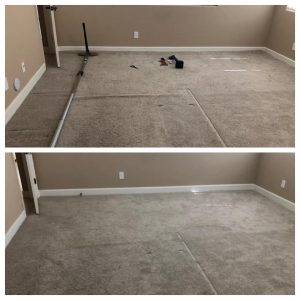 Starlight Trail is a community in Avondale, AZ. Did you know that Arizona is the number one state with the most swimming pools per people?! Having a pool means you need to pay attention to conserving water. One of the main concerns is if your pool is leaking. Since most pools have an automatic pool re-filler, leaks can go unnoticed. Some of the visible signs of a leak are that your water level drops more than would naturally occur through evaporation, wet spots occur around the surrounding landscape, air bubbles rise to the surface, chlorine stabilizer is lost too soon after chemical treatment, and or algae formation occurs too soon after chemical treatment. Besides fixing leaks, here are some more water saving ideas:
Use a cover. This will reduce evaporation, increase safety, and keep summer monsoon dirt out of your pool, which will reduce your backwash frequency.
Consider new chemical covers that produce a micro-thin layer on the water's surface.
Do not overfill to minimize potential loss due to splashing.
Check pool fill valves. A fill valve can get stuck and overfill your pool. Turn them off or have someone check your pool when you are out of town.
Maintain chemicals properly to reduce the frequency of draining the pool. Pools seldom require draining, so consult a professional before doing so.
Reuse pool water if you do need to drain your pool. Do not add new chemicals for up to 72 hours, then use the backwash on salt tolerant landscape plants.
Backwash pool filters only when necessary.
Monitor backwash. You only need to backwash until the water runs clear.
Use pool companies that can do repairs without draining the pool if they are needed.
Turn off waterfalls, water slides, or other water features when not in use.